What is Narcotics Anonymous?
 "Narcotics Anonymous is a non-profit fellowship of men and women for whom drugs had become a major problem. We are recovering addicts who meet regularly to help each other stay clean. This is a program of complete abstinence from all drugs. There is only one requirement for membership, the desire to stop using."(Basic Text Page 9, 6th Edition)
Click picture for "Just For Today" meditation.
Our Primary Purpose
 "To carry the message to the addict who still suffers."
"What is our message? The message is that an addict, any addict, can stop using drugs, lose the desire to use, and find a new way to live. Our message is hope and the promise of freedom. When all is said and done, our primary purpose can only be to carry the message to the addict who still suffers because that is all we have to give." (Basic Text Page 68, 6th Edition)
Am I An Addict?    (PDF)
For The Newcomer   (PDF)
Contact Information:
"We recognize that one addict can best understand and help another addict."
If you need to speak to an addict right now…
Call HELPLINE: (352) 368-6061
Outside the local area you can find help HERE!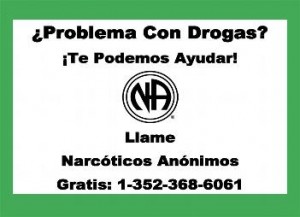 ***Zones Collaboration Survey***
Please assist with our primary purpose and 1st Tradition by completing the Zones Collaboration Survey.
This will help our RCM and the entire US fellowship of Narcotics Anonymous.
We seek to understand understand group conscience around collaboration between geographic zones around the USA. Read more here:
Forest Area Service Committee
F.A.S.C.
PO Box 2571, Ocala,FL 34478-2571

Some items on these pages contain Narcotics Anonymous Literature.
Copyright © NA World Services, Inc. Reprinted by permission. All rights reserved.
 Additions, corrections or comments concerning this Website should be directed to: